Welcome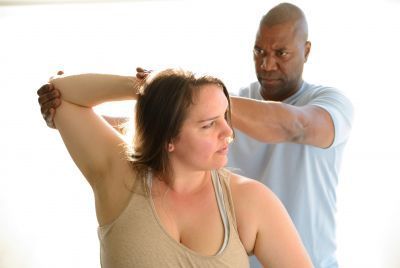 Welcome to MedicalMasaje.com.
At Medical Masaje (pronounced Medical Mah-sa-hey which means 'massage' in Spanish), we focus on a specific area of your body feeling discomfort, tension, and limited range of motion (ROM). We service the entire east bay area: Albany, Richmond, Berkeley, El Cerrito, Richmond, Oakland, Alameda, and more!
We specialize in the modality of 'Advanced Neuromuscular Therapy'.
What is Advanced Neuromuscular Therapy?
Click on the "Services" page to learn more about the origins of this modality. We've listed all the techniques that we use at Medical Masaje.
Making an appointment is easy! Click here to book your session now. Some of your questions may be answered on our FAQs page. If you have more questions, please email us at Info@MedicalMasaje.com.
If you want us to stay in touch, please sign up for our newsletter to receive valuable information and special promotions!
Thank you for visiting 'Medical Masaje' and have a pain free day!
<script id="mcjs">!function(c,h,i,m,p){m=c.createElement(h),p=c.getElementsByTagName(h)[0],m.async=1,m.src=i,p.parentNode.insertBefore(m,p)}(document,"script","https://chimpstatic.com/mcjs-connected/js/users/7034827e88d63dc4bb3e4b971/ccafefef50af136c342371003.js");</script><script id="mcjs">!function(c,h,i,m,p){m=c.createElement(h),p=c.getElementsByTagName(h)[0],m.async=1,m.src=i,p.parentNode.insertBefore(m,p)}(document,"script","https://chimpstatic.com/mcjs-connected/js/users/7034827e88d63dc4bb3e4b971/ccafefef50af136c342371003.js");</script>